---

---

Thursday, June 3rd. 2004 / 20:19 UTC
Hi, folks ! It's me again, Dietmar, reporting from the completion of the adventurous dream of getting around the world with nine meters wing span and a flat four single engine. Tomorrow Thomas will leave Los Angeles with a slightly bigger commercial model bound for Mongolia via Old Europe where his flying carpet is waiting for its pilot. We'll try to stick to former procedures, whenever a step is completed, you will read about it - in favor of your nerves :-)
Saturday, June 5th. 2004 / 17:25 UTC
Phone call from London/Heathrow, he's on his way to Mongolia ...
Monday, June 7th. 2004 / 08:11 UTC
Thomas has reached Ulan Bator. It took three hours until he could throw a first glance at his bird. His SMS said: "condition o.k."
Thursday, June 10th. 2004 / 19:50 UTC
The passage over Mongolia is granted. He has sent two tanks ahead and will take his long-time friend Timur until Bayan-Ulgii, a Kazakh enclave in the far-West of Mongolia. The pilot is still going through every corner of the plane to ensure a save flight. No major obstacles so far ... so, sooner or later , I might be able to report from the first step towards the end of circumnavigating the "big ball". Inbetween a lot of folks sent all kind of well wishing emails from all around the world. Thanks for being with us !
Friday, June 11th. 2004 / 21:38 UTC
Even the biggest journey starts with a small step ... after unexpected bureaucracy in UlanBator (ZMUB) the takeoff was extremely delayed and there was only little daylight left for a short flight. The bird did a precautionary landing in Bulgan (ZMBN) due to poor fuel delivery to the engine.

Saturday, June 12th. 2004 / 18:05 UTC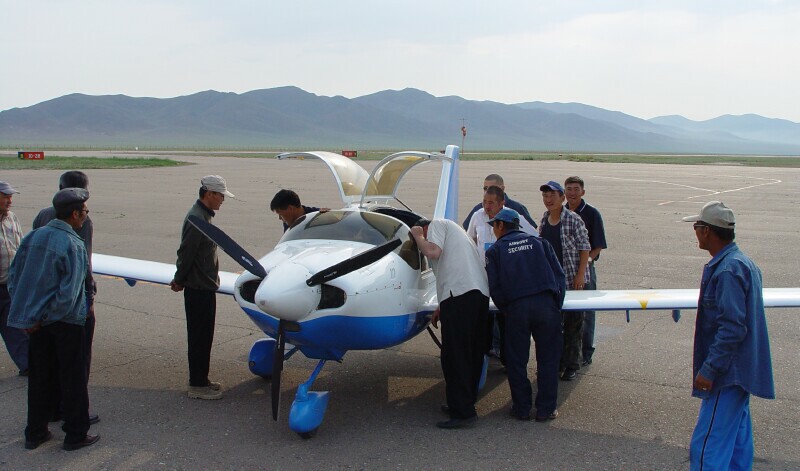 The next landing can be reported from Moron - for a cup of coffee and to demonstrate the Mongolian authorities that the plane is now ready for the long flights. But the top news of today was the arrival of the permits to cross Russia and fly into Kazakhstan ... just in time !
Sunday, June 13th. 2004 / 05:54 UTC
After an overnight stop in Ulgii (ZMUG), the day started again with bureaucracy, but finally the Russians agreed to their own permit. At 05:31 UTC, I could talk to our Pilot. Russia is done and he was just flying 13000 feet above the city of Ust Kamenogorsk (UASK) in Kazakhstan heading towards Karaganda (UAKK) via Semipalatinsk (UASS).
Sunday, June 13th. 2004 / 14:26 UTC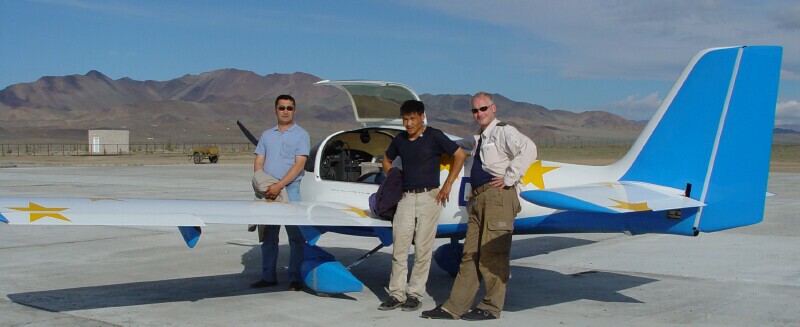 Another "done". He did the Altai mountains, they are slightly higher then Jeppsen makes us believe in their database. Cruising at the above mentioned height, he had to leave the airways from time to time and follow "valleys" to avoid the bigger ones of those stone giants. He finally touched down at Karaganda (UAKK) at local late afternoon and the long lasting immigration and customs procedures were topped by the sky-high landing fees. He will have to wash some dishes at the nearest hotel to earn the money, otherwise there will be no take off tomorrow ;-)
Tomorrows schedule will be less gruelling, as he crosses huge wide planes on his way to Aktyubinsk (UATT).
Monday, June 14th. 2004 / 20:00 UTC
... less gruelling, hmm... today he experienced a little bit of unpleasant wx ... was due somehow ... 40knots on the nose for 6 hours resulting in 48knots GS, "enjoying " poor seeing and when he finally reached UATT , the tanks were almost empty . Talking of troubles, the only chance to get a decent dinner at late hours was a .... disco ! Well, different countries-different habits :-)
Tuesday, June 15th. 2004 / 17:30 UTC
A forced rest day , today. The weather is disgusting, thunderstorms and wind with 80km/h on the ground. So we extended our landing window at Baku (UBBB) in Azerbaijan, the next goal, and the Pilot used the day for recovery and some minor repairs on the brakes. Hopefully the weather condition will improve and allow the bird to fly on. Meanwhile the Pilot is looking forward to celebrating another disco-dinner ... (not really, I guess).
Wednesday, June 16th. 2004 / 12:50 UTC
The day started early with 30km/h wind and the plane got filled up with precious gas , enough for 18 hours. He took off at 03:30 and once he reached the open lake, which is actually called the "Kaspian Sea", the wind calmed down and the GS (speed above ground) climbed to fine 88 knots. --- now the eagle has landed, this time in Baku at 12:42 UTC. Immediately lots of folks gather around the aircraft and have a close look ... with fingers. Thomas is "pleased". And it's just another place, where they try to finance the whole airport running cost by every single landing. Well, as we all know, there is no way to become rich by honest work. Tonight , the decision about the last legs to Germany will be made and you, of course, will have an updated map.

Thursday, June 17th. 2004 / 22:10 UTC
What a day ... after more than 10 hours starting from Baku, crossing Armenia through the Pontic Mountains (famous Ararat 5137m) accompanied by occasional lightning he finally arrived safely at Samsun (LTFH) in Turkey at the coast of the Black Sea around 20:42 local time. The original idea to go the easier way through Georgia was turned down by Georgian officials, who thought that a plane, using car gasoline, is not capable of passing through Georgia ... next time we gon'na use a Learjet, yes ! Tomorrow he intends to cross the Black Sea and visit Bukarest, the capital of Romania. The present main intention is to reach Bonn (EDKB), which was the starting airport of this big adventure, on Sunday, the 20th. of July. Well, wait'n see, there are obstacles like officials or weather and last not least it depends upon performance of plane and Pilot, which were the most reliable assets so far !
Friday, June 18th. 2004 / 23:00 UTC
The bad weather above Romania forced him to land in Bukarest (LRBS) in the late evening some 100 nM short of the intended destination. He got the a precicion radar approach as the ceiling was at 150 agl. Let's hope, that there is an improvement tomorrow, so that Germany can be reached on Sunday as "planned".
Saturday, June 19th. 2004 / 19:30 UTC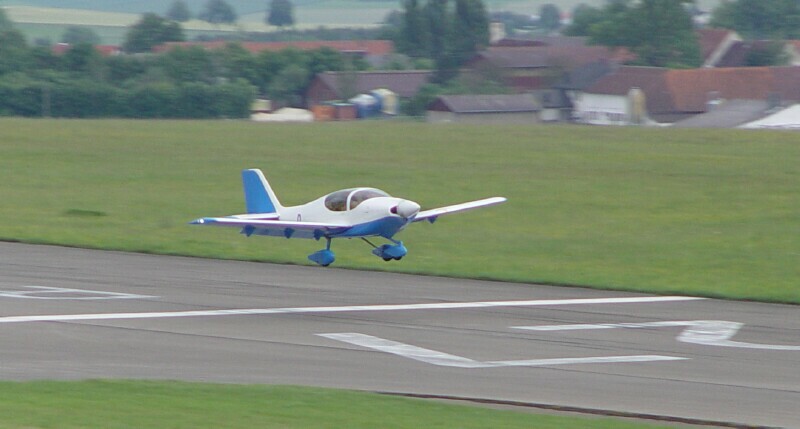 N81EU has landed in Elchingen (EDPA) in Germany at 20:05 local after a 10h flight, crossing five countries. Bird and Pilot will be cleaned to be beautiful for tomorrows show down at Bonn (EDKB) around 14:00 local. Looking forward to meeting you there .....
Sunday, June 20th. 2004 / 19:45 UTC
It's done -- the flight around the world is accomplished. Today Thomas arrived in formation with three other planes in the afternoon at Bonn (EDKB), the place he started from, some months ago. He had 41 landings in 14 different countries, flying over another 5 ones, covering a distance of about 18950 nautical miles (not counting all those extra bits and curves for curiosity reasons or avoiding poor weather). The maximum height encountered was about 14500 feet, just to find out, that there are enough higher mountains around.
Lot's of friends and relatives had been awaiting him and some press people showed up too. So he had a lot of questions to answer and he even delivered a little ad hoc report, regarding the route and some of those beautiful pictures could be admired. There had been questions about further plans too, wait'n see... For me, my esteemed readership, it's time again, to disappear into the background and pass this page back to the owner, until the next adventure ... See you then and many thanks again for all your support. Auf Wiedersehen !
---