---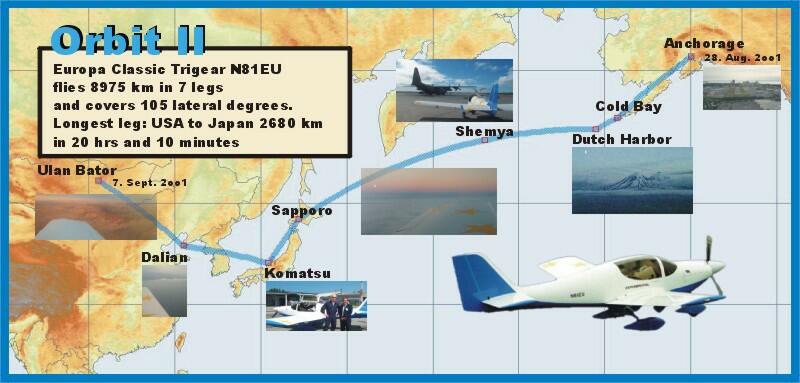 email to Thomas: thomas@scherer.com email to Dietmar: mondon@mtrans.de
---
******
******
Aug. 16, 2oo1
Hi, folks !
The heat is on, Orbit is to continue !
Thomas has reached Anchorage, Alaska. The spot, where he left N81EU last year after the epic flight across the Atlantic Ocean to Oshkosh 2000 and then on to the pacific coast of Alaska.
The plane is now being redied for another loooong flight across the Pacific to Japan. N81EU will get another propeller and 100 liter additional fuel in order to tackle the 20 hr+ flight.
stay tuned - departure is now set for Aug. 21st. 2001 ....
******
Today some "inbetween news" in the pilots words: "... he is enjoying himself in Alaska with his friends Ward and Peter. The airplane will get a new Variable Pitch Propellor supplied by Airmaster of New Zealand and two more Aux fuel tanks that were supplied by the Europa Factory for this attempt. He will be carring a total of 210 liters of fuel.
He installed new coax cables for the GPS and the Transponder and fixed the strobe lights. Two car-type fog lights will be installed into the wheel fairings to act as landing lights.
All permits are still pending - the crew is working on the last US-island which is an Air Force Base and does not allow private airplanes and then he will have to get permits for Japan, Korea, China and Mongolia ....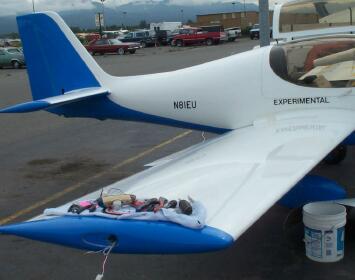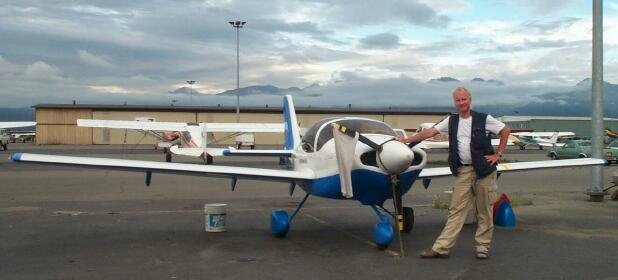 Hi, folks !
Here are some new pictures. A "parking lot" in Alaska, N81EU looking at you with the new landing lights in the wheel fairings,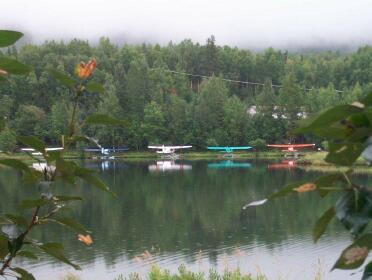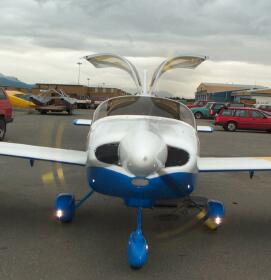 the large fuel tanks, sponsored by Andy Draper !!, Ward's bird ...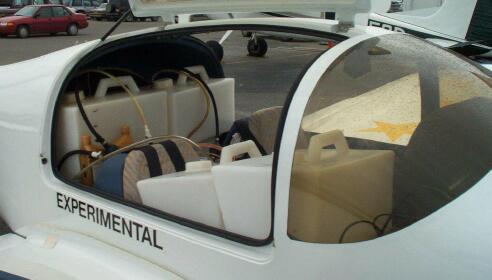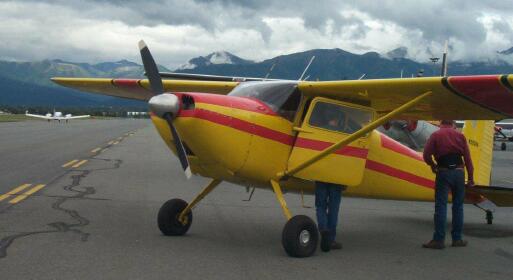 ....and a view before touch down in Anchorage

******
Thursday, 23rd. of August 2001
The huge taifun, still luring around Northern Japan, is calming down. The new departure might be on Saturday 25th.
Inbetween for all those who admire great nature ... Mount MC Kinley, with 20300feet the highest one in NA.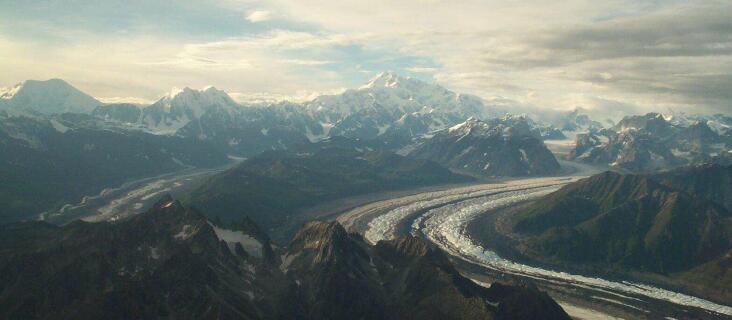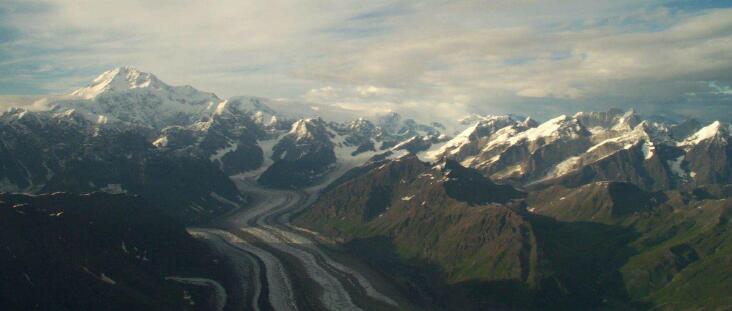 ******
Sunday, 26th. of August, 2001
Here some lines to settle the curiosity. No, he's not on his way, not yet. The bird is in it's best shape ever, new battery, new variable pitch prop, well balanced off course. Sittting ducks in Anchorage, waiting for good wx and some "minor" bureaucracy beeing settled, like landing permits a.s.o. ...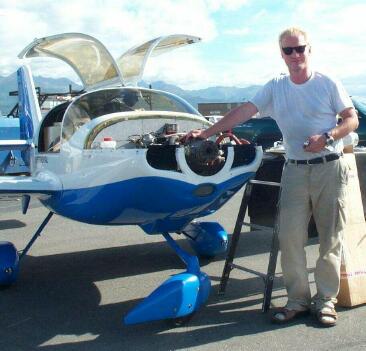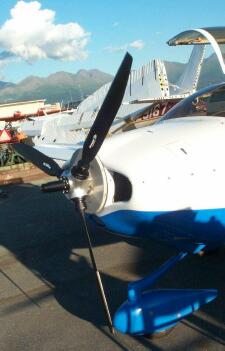 Oh, yes, I almost forgot ...he invested a fortune into an Iridium SAT-phone, so if it's getting boring high above the pacific - we are going to have a phone discussion about the love live of plaster stones at midnight ...
******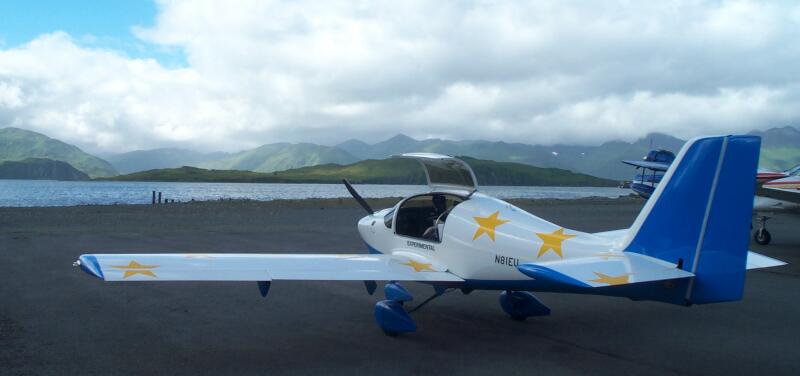 Tuesday, 28th. of August 2001
Finally....Thomas left Anchorage on Monday afternoon and will arrive in PACD/Cold Bay about 0630z This will settle the first leg.
******
Tue, 28th.Aug.2001
Thomas had a rather foggy approach towards PACD/Cold Bay and landed safely at 0637z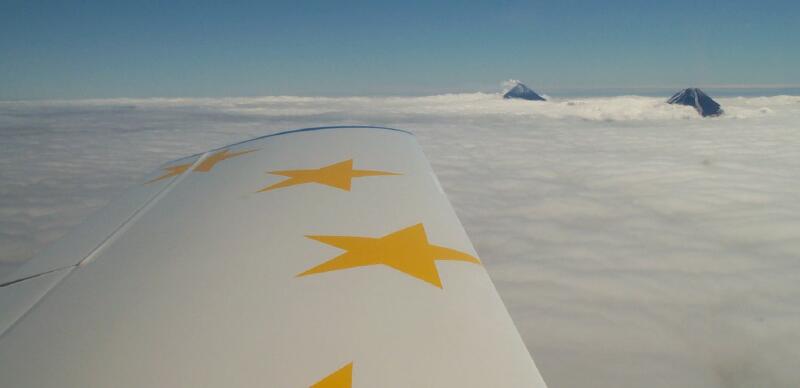 Tue, 28th. Aug. 2001 2038z
In about two hours there will be a minor jump from PACD to PADU to be ahead of the cold front tomorrow. If wx is acceptable the next leg from PADU/Unalaska to PASY/Eareckson on the utmost Aleutean Island Shemya will then be tomorows task. In this area of the world, a standard European fog is declared VFR conditions :-) according to Thomas ...
******
Wed, 29th. Aug. 2001
At 0029z touch down at PADU/Unalaska, beeing 154nm closer to Ulan Bator. Well, to compensate our esteemed readers for this short trip, here are some beautiful pictures.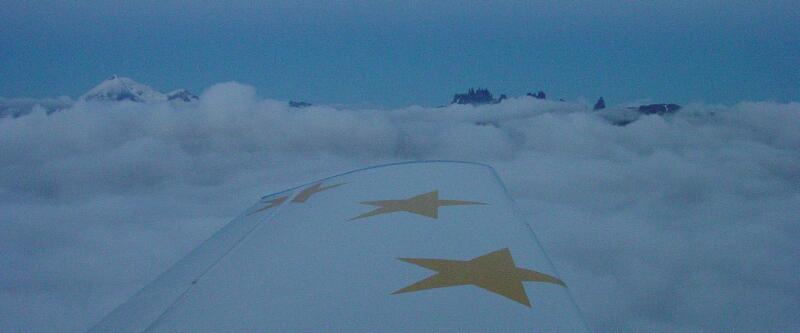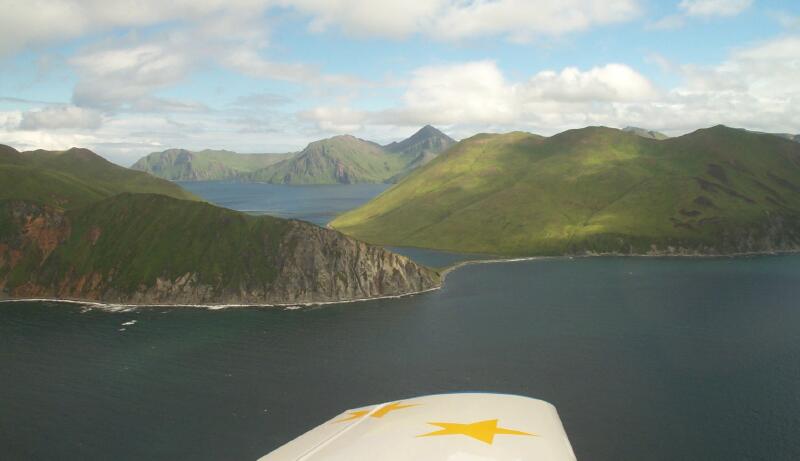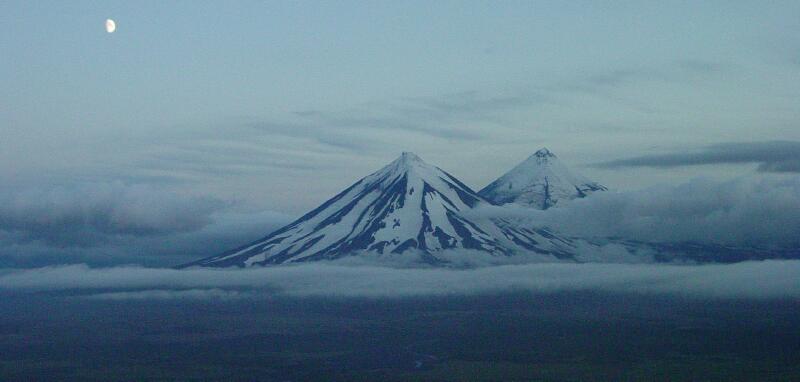 ******
Thu, 30th. Aug. 2001
""Safe" landing with 32knt side wind at 0832z in Shemya Island /PASY. As it is past midnight there, and the flight was kind of cloudy-windy-rainy, the pilot will have some sleep now. (Thanks to Ward for the quick wx report on route). The forecast for the MidPacific wx will dictate the next schedule.
Below you see the next morning - N81EU is ready for the big flight. The people on the island tell us that it is the first day without fog since 4 weeks !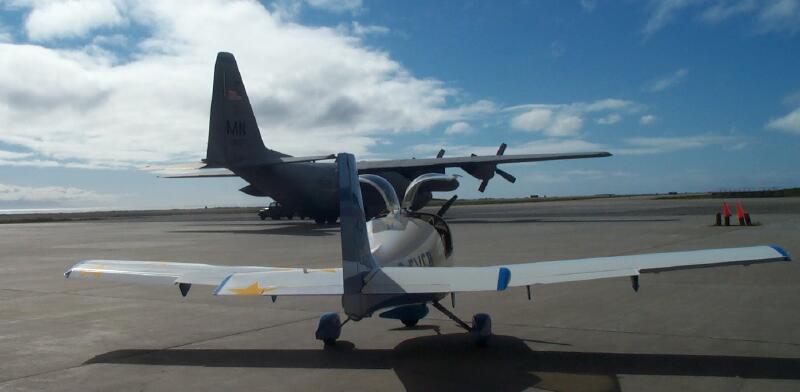 ******
Fr, 31st. Aug. 2001
Attention folks, the big jump is happening ! Thomas left PASY at 1730z and since then we try to keep an hourly contact rate through the Iridium SAT phone which is working fine so far. The planned avg GS could be roughly maintained up to now although 10knt are coming from the wrong end. This will be a night with little sleep for all people involved. Lots of friends called in and are wishing good luck . Thanks to all who are mentally with us now !
******

Sa, 1st. Sep. 2001
Yeeees! He did it ! The plane did it ! The people involved, did it ! You, with all your good wishes, did it ! It was a loooong flight, starting out from PASY at 1730z with an almost forgotten experience during the first 3 hours...tail wind ! But, as you can imagine, it disappeared slowly and stubborn but steadily grew to a horrible 32kn on the nose within the next seven hours. Time and plane crawling with painstaking 48 knots !! One could walk as well. The Japanese controllers refused an escape to the West but after some patience and nerve killing four more hours, the poor wx area was passed and the conditions turned back to normal. One of the bigger obstacles turned out to be the lack of detailed wx infos for low flight levels in this part of the world. Great maritime material for the ships and the jet people can select out of a wide collection of charts. Here again thanks to Ward and Jerry for their efforts to enlighten the darkness. Due to the expected late arrival, Thomas was adviced by Hakodate to divert to Chitose/Sapporo,where he landed safely around 1320z , after spending 19:50 hours in the air. The remaining gas would have enabled the bird to fly until 14:30z.
Now it's time for a gooood relaxing sleep.
******

Su, 2nd. Sep. 2001
Hi folks ! As some of you are already loosing their patience .... Thomas spent this beautiful sunday with Customs and Immigration, as those folks had been already to bed yesterday. Then he went for gas outside the airport, you won't believe what they charge you for asking that favour ... from what I heard so far, just the fees they dare to collect there are reason enough, to never again visit Japan by a private plane ( they are obviously spoiled by all those Lear-jet owners ). Later that day, the flight plan for Incheon/Korea was announced and if wx allows, he will continue on Monday morning 0030z. From now on through Japan, Korea and China, it will be flying on rails, strictly following the airways. Exactly what Thomas likes most .... :-)
******
Mo, 3rd. Sep. 2001
Hello, world ! Thomas left Sapporo in the early mornig (local) on his way to Incheon/Korea. He called from Niigata, on the North-Western side of Japan some minutes ago. Due to bad wx and Japanese controllers sending him up and down he had to land to top up. He will try to go through the poor wx and arrive late in Korea touching the most Southern point during this trip. See you again then at this place ...
******
Mo, 3rd. Sep. 2001 10:59z
Another unexpected landing. The Japanese controllers sent him knowingly straight into a thunderstorm ! With this amount of gas on board, a serious thing, the instruments went crazy and he had to go down at Komatsu(RJNK (MIL)) where he has to recover from this experience ... nothing I really like to report ! He will stay there over night and continue to Korea tomorrow.
O-tone Thomas: "for private pilots, Japan is a NO-NO country"
******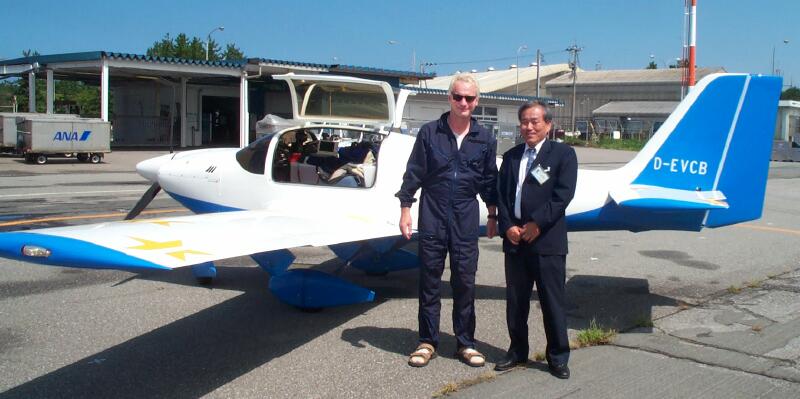 Tue, 4th. Sep. 2001 0641z
It's a wonderful world .... now, after two delays (caused by wx!) the Koreans refuse clearance to land in their wonderful country...Thomas will try to go direct to China- this needs a Korean clearance too to fly over their wonderful country... and just some minutes ago, I got word from China...the mental flexibility to understand, that a small plane follows different rules than a Jumbo, is somewhat at the limits there too........ Well, who said, that crossing the pacific would be easy ... stay tuned for more to come on this channel :-) Personally, I would like to extend Thomas's yesterday remarks to: "for private pilots, Asia is a NO-NO area" You better stay at paradises like (in alphabetical order) Alaska, Australia, Canada and the USA, really !
******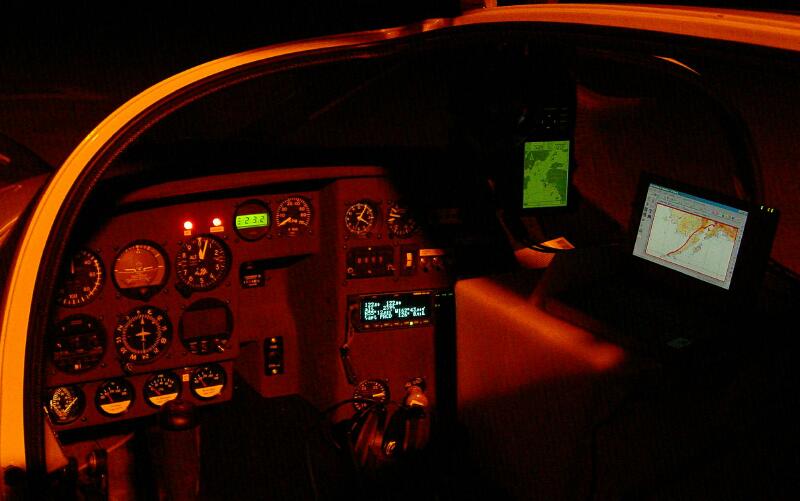 Tue, 4th. Sep. 2001 1017z
Thomas is up in the air on his way to China since about 2,5 hours. The fax lines between Germany and China are glowing
but we are confident, as usual .... Assuming, that everything goes as expected, this will be another 12h flight..at least...
******

Tue, 4th. Sep. 2001 2300z
The eagle has landed, no, not on the moon but it sounds distant too, Zhoushuizi / ZYTL. Yes, an hour before landing in Tianjin another thunderstorm (you remember yesterdays experience) showed up and Thomas had to turn back and to the North to reach this (icannotpronounceit) Zhoushuizi at 2030z. As it is early morning there, he has to wait for about 3h for immigration and customs showing up. He will use this time to deliberate on how to continue ... top up and leave or have a good nap and go for the "rest" tomorrow. I'll let you know, as soon as I'm informed ....
******
Wed, 5.th.Sep.2001 1040z
An early mornig coldfront saved Thomas from "returning" to Tianjin and the chinese officials finally allowed him to stay in this unpronounceable Zhoushuizi. The weather and the unfinished Mogolian paperwork will keep him there until Friday . The flight will then pick up the originally planned route and move another long day through the mountainous and windy Mongolia. Thomas insisted on mentioning, that this Rotax beauty didn't need one drop of oil, so far
******
Fr, 07th. Sep. 2001
Oh, yes, we are still in command . Thomas had a one day struggle with the smiling people and is now on his way "home". He passed already the border to Mongolia and as soon as he has landed, we will get more information, I hope ... So, please some few moments more patience and then this years attraction comes to its end. Perhaps I mentioned before, the biggest obstacle this time was bureaucracy in its highest develloped form paired with flexibility similar to railroad rails from officials in several places, but I believe, this part of the world was a one time visit for N81EU.
******
Fr, 07th. Sep. 2001
FINALLY !! At 1447z Ulan Bator in Mongolia was reached. Bird and Pilot are fine. The long way from Anchorage was quite a challenge for man and machine. If anybody needs a recommendation, what to buy next ...how about an Europa-kit with a Rotax engine and an Airmaster prop ? For me, my esteemed readership, it's time again to disappear into the background and pass this page back to Thomas for cleaning up and presenting the full story. I'll celebrate with a "few" beer tonight and for the last time this year ..."heartful thanks to all of you who supported us ! " .... looking forward to meeting you again next year ... same page ..... Auf Wiedersehen !
******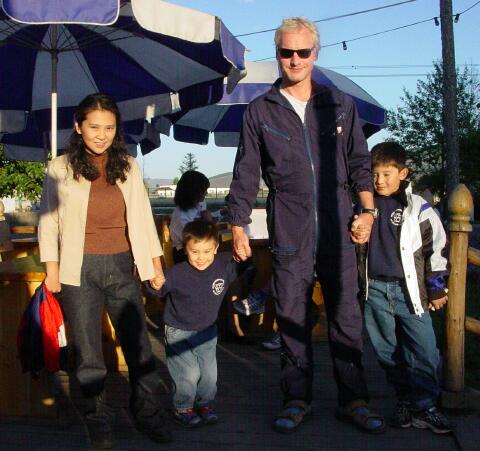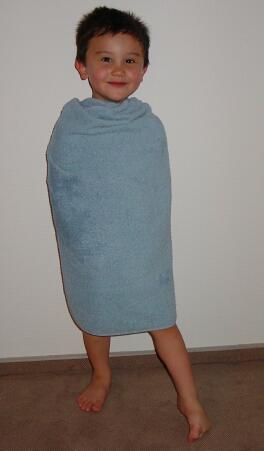 ******